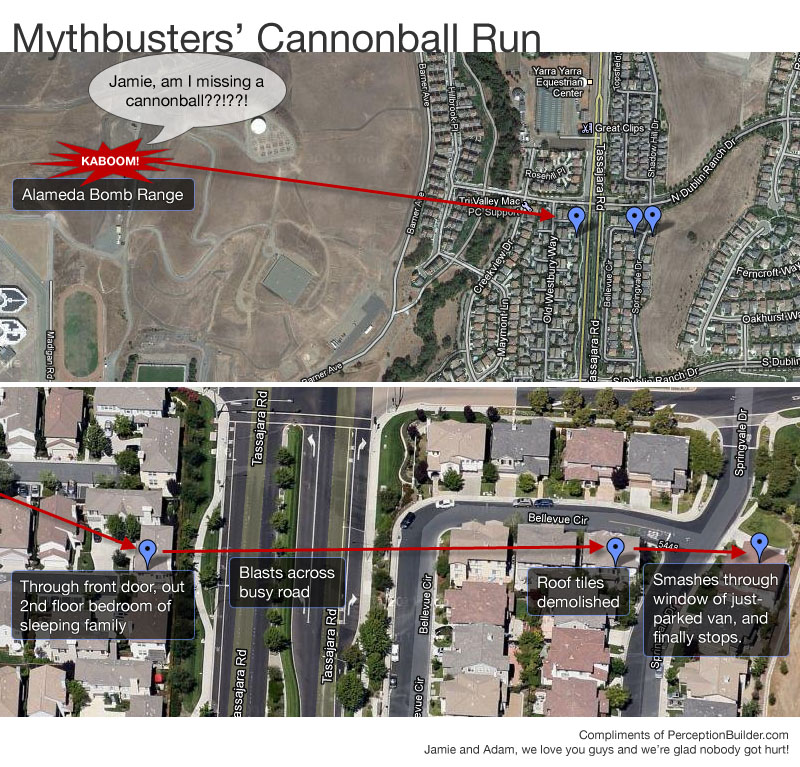 [AWD_likebox]
Why like PerceptionBuilder.com?
Because we make cool things like this and the Gestation Video (has over 10 million views on YouTube) so you will get updates when we create our next killer thing!
We heard about the Mythbusters' cannonball faux pas and got curious what the path looked like and couldn't find a map online. Take a look and be thankful no one got hurt! Keep up the great work Mythbusters!
UPDATE: Thanks to Chris Matyszczyk, of CNET, for posting our map on the front page of CNET!
News orginizations please feel to use the graphic! If you could just include a link back to us, that would be great. Our email is info@perceptionbuilder.com.


COPY CODE TO MYTHBUSTERS' CANNONBALL FLIGHT PATH ON YOUR SITE/BLOG


Yes, our site is under construction but just had to post this!
About PerceptionBuilder.com
We help businesses with their technology and internet marketing needs; like viral content, seo, web development / design, and social media. If you have a project you need help with, please contact us! We have been so busy with helping our existing clients that we haven't had time to finish our own site so please don't judge us too harshly.